January 8, 2015
Generate Graphical PAN Verification Report
As the last date of filing the TDS/TCS is fast approaching have you updated your Tds filing software. We at KDK, have introduced a a very essential feature in the software to makes lives of the deductor so much easier.
As per the laws, all corporate and government deductors / collectors are mandatorily required to file their TDS / TCS statements on electronic media (i.e. e-TDS / TCS statements). However, deductors / collectors other than corporate / government can file either in physical or in electronic form.
To help you file the TDS return, we provided a software Zen e-TDS in which a user can easily access the tool for TDS Return filing.
However, there is one basic issue which is faced by all the deductors while filing the TDS. Most of the times; the deductor while return filing are required to revise the details because of few invalid or non-verified PAN Numbers. Once, the PAN number for a deductee is proved invalid than the deductor is required to re-edit the sheet and upload it again.
If that is the case; don't be afraid. We have bought a new update to save you from all the hassles.
Our Zen eTDS Software comes with the facility to generate consolidated Graphical reports of PAN validation status. This automates the process of selecting the Invalid PAN details and re – validating them. Hence, allowing a more correct TDS return filing without PAN validation errors.
How does this work?
When the details are filed, the system will verify all the PAN numbers. Our software is embedded with such conditions and values that it will list all the valid, invalid & un-verified PAN Numbers.
It will list down as:
> Structural Valid PAN but not verified
> Structural Invalid Pan
> Verified but invalid PAN
> Not Mentioned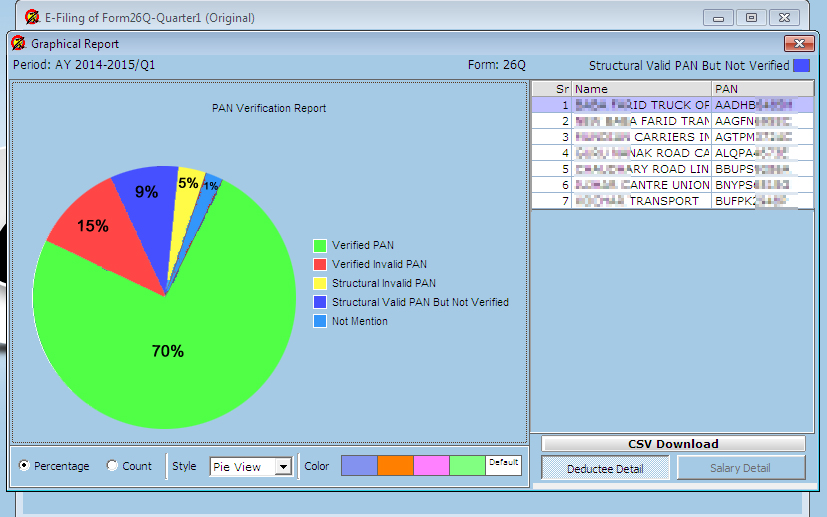 Each of the mentioned lists can further be downloaded as a CSV file. Once the CSV is downloaded, the deductor can edit the invalid PAN Numbers and submit the list again.
Enabling & improving the features every day at KDK Softwares.
Happy Filing 🙂