January 23, 2017
KDK Softwares Launches GST National Toll Free Helpline 18001039271
Jaipur, 4th January, 2017
A leading software development company of India in Taxation Domain, KDK Softwares (I) Pvt. Ltd. has launch a national "toll free helpline service" for resolving GST related queries. The toll free helpline will be available in 6 languages – English, Hindi, Gujarati, Marathi, Kannada and Malayalam. This toll free (1800 103 9271) helpline service was inaugurated by Chief Guest, Shri Rajeev Swarup (IAS), Principal Secretary – Small Industries, Govt. of Rajasthan and Guest of Honor, Shri Ajitabh Sharma (IAS), Commissioner Industries, Govt. of Rajasthan along-with Chairman of KDK Softwares Mr. Kapil Goyal.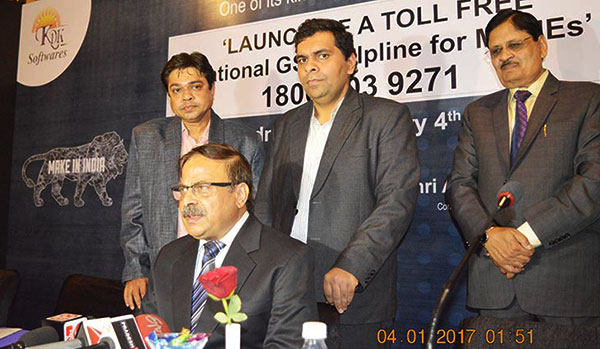 Government has already announced the GST registration program and under this GST regime, states like Gujarat (78.36%), Madhya Pradesh (76.87%), Chhattisgarh (74.49%), Rajasthan (67.13%), West Bengal (60.58%), Chandigarh (53.13%), Jharkhand (56.29%) have observed a huge response. On the other side, states like Assam, Arunachal Pradesh, Uttar Pradesh, Delhi, Uttarakhand, Himachal Pradesh,Maharashtra, Bihar have observed poor to average response. States like Kerala, Tamil Nadu, Karnataka, Telangana and Andhra Pradesh have started the registration program from 1st of January, 2017 and will be ending it on 15th of January, 2017. (Source: https://www.gst.gov.in/enrolplan) Once the first round of registration of GST will get over, Government will launch the second round of registration from March 2017.
Shri Rajeev Swarup (IAS), Principal Secretary – MSMEs, Govt. of Rajasthan, said, "As the GST will be rolled out soon, small industries will be looking for helping hands on transition from multiple taxes and filing of returns with separate departments (VAT) to one tax (GST). Unlike the existing return processes, the GST requires to be filed every month by the businessmen which will make it easier once the 'hands on' processes are set. Toll Free Help Line is a great initiative by a Jaipur based tech company and business fraternity should utilize this one stop GST helpline to resolve their queries."

While all the existing taxpayers registered under VAT, Service Tax, and Excise are required to furnish the details at GST Common portal for the purpose of migrating themselves into GST regime, the clerical and technical burden is going to mount on tax  consultants and professionals. The transition period will have existing tax return processes running parallel to the GST regime, the MSMEs and small dealers / business owners will have confusions and queries on conversion of the multiplicity of taxes to the simplicity of taxes, GST. KDK Softwares one of its kind initiatives will help with this toll free helpline by consulting on GST taxation queries and issues.
Within the target dates, all businesses need to build internal capacities to keep pace with the technical knowledge on GST procedures. For the purpose of creating bridge between MSMEs and Governments, it is essential to have volunteers like KDK Softwares, who help in smooth implementation of GST. KDK Softwares has a strong professional team who has expertise on taxation domain. Over 50 highly trained professionals includes CAs, CSs, Low Experts, Software Engineers and domain experts who are always available to serve to the MSMEs.
About GST Helpline
KDK Softwares has built-in a capacity of handling over 1500 queries in a day
Call services are available in 6 languages, English, Hindi, Gujarati, Marathi, Kannada, Malayalam
Gujarat, MPCG, Rajasthan and WB observes the highest response rate on GST registration
An initiative to provide support in transition and analyse the types of in-call queries
About KDK Softwares (I) Pvt. Ltd.
Established in 2003 as Software Development Company, KDK Softwares (I) Pvt. Ltd. is today, a mature and fast growing company committed to provide reliable and cost-effective Software solutions to Tax Professionals and SMEs all over the Nation. Head Quarter based at the Pink City of India Jaipur, KDK Softwares emphasis on quality, world-class human resources and cutting edge solutions drive its commitment. With a successful track record of serving over 20,000 Satisfied Customers including Tax Practioners to Small & Medium Corporate, KDK Softwares brings the benefits of working with a partner with software skills, networking expertise, project management experience and domain knowledge in every aspect of statutory compliance.
Jaipur Office
K.D.K. Softwares (India) Pvt. Ltd.
"Goyal Villa", A-40, Shyam Nagar,  Jaipur – 302019, Rajasthan, INDIA
For Sales Enquiry :
Phone: 93145-17671 | | Email: sales@kdksoftware.com
Support:
Phone: +91-79-69-012345 | Email: support@kdksoftware.com