April 1, 2021
How to save tax beyond section 80C?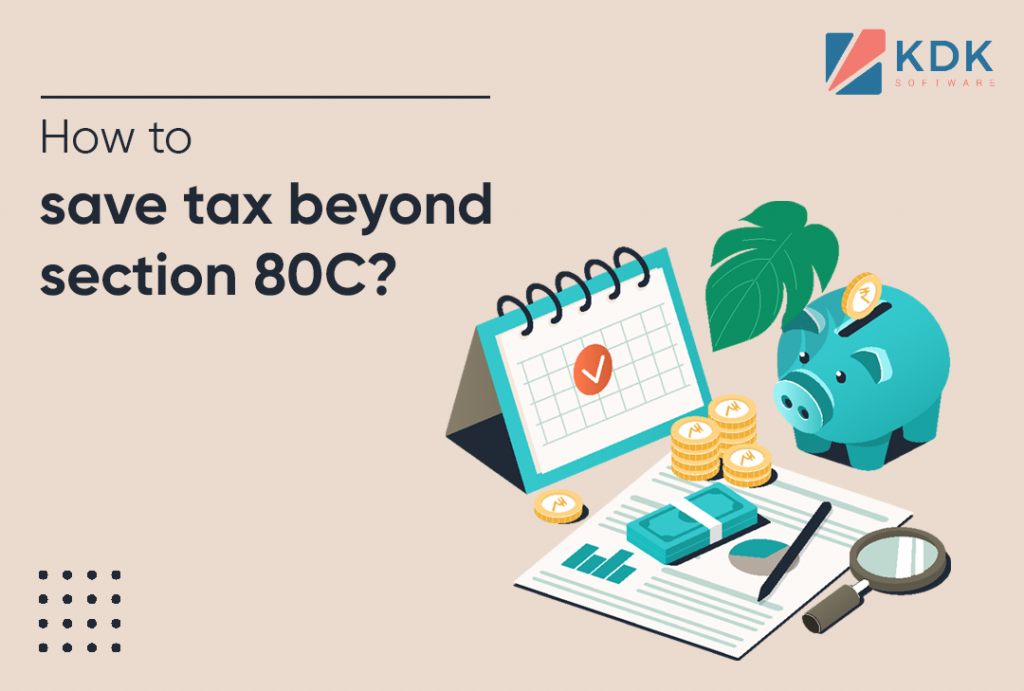 Almost everyone is familiar with a tax deduction of ₹1,50,000 under Section 80C of the Income Tax Act, 1961. Proper fiscal savings benefits most taxpayers, including all the professionals and salaried individuals, to save on taxes. There are a bunch of options under this section as far as claiming tax benefits is concerned, like insurance premiums, PPF, EPF, and tax-saving fixed deposits.
Having said that, there's a great deal more to tax planning than just Section 80C which helps tax-paying individuals to reduce their tax liabilities. Let us take a look at tax-saving possibilities other than Section 80C to help you further reduce your liabilities.
Section 80 DD
This alternative to Section 80C is chiefly made available for individuals with limited mobility i.e. handicapped. Individuals and Hindu Undivided Families (HUFs) can claim this Section on the amount they spent on the rehabilitation of their handicapped relatives who are dependent on them.
The deduction is applied on:
● Medical expenses which include nursing, rehabilitation, and training
● An amount that is paid to a specific scheme that goes towards caretaking of handicapped relatives
There are certain deduction limits under this section and they are:
● ₹75,000 for 40%-80% disability
● ₹1,25,000 for severe disability (80% or more)
Section 80 DDB
Section 80 DDB allows for a tax deduction on medical expenditure for self or a dependent relative.
● Senior citizens of HUF and individuals can claim a deduction of up to ₹40,000 on their treatment expenses
● The limit of deduction is ₹1,00,000 for expenses paid for the treatment of senior citizens
● Medical expenses that are claimed from a medical insurance policy or an employer are deducted
However, a prescription from a medical practitioner is required to make this claim
Section 80 TTA
Deductions of up to ₹10,000 can be claimed by an individual if the person has earned interest from a savings account that she/he maintained in a bank, a post office, or a co-operative society.
Section 80GG
An individual can claim a deduction on their house rent if they do not receive any house rent allowances from their employer, however under certain conditions.
The deduction claimed by the individual will be less than:
● Rent minus 10% of adjusted gross income
● ₹5000/month
● 25% of adjusted gross income
Section 80E
An individual can save on taxes if they have an education loan they took for self, spouse, children, or legal wards on higher education. However, the deduction can be claimed till either:
● 8 years from the year of loan repayment
● Until the entirety of interest is paid
Section 80EE
First-time owners can save on their taxes excluding Section 80C under the Section 80EE on home loan interest. The maximum deduction that can be claimed is ₹50,000
Section 80CCG
A citizen with a total income of less than ₹12,00,000 is eligible to claim a deduction on 50% of investment in shares of RGESS (Rajiv Gandhi Equity Savings Scheme), or ₹25,000 for 3 continuous assessments years.
The conditions for claiming deduction are:
● The individual a new retail investor by the notified scheme requirements
● The investment is listed by the notified scheme requirements
● The individual should invest in a scheme with a maximum lock-in time of 3 years from the date of acquisition
Section 80U
Citizens who endure physical impairment can claim a deduction of up to ₹75,000 and citizen who endure severe disabilities can claim up to ₹1,25,000.
Section 80G
This section provides an alternate tax saving option in the form of donations to a public cause. Depending on the charitable institution, the donation made is deductible up to 50%-100%. The list of charitable institutions in question includes Prime Minister's National Relief Fund, Swachh Bharat Kosh, Jawaharlal Nehru Memorial Fund, National Children's Fund, and countless others.
Section 80GGB
An Indian Company can claim a deduction of 100% on the contribution made to a political party or electoral trust. Payment, however, should be made in modes other than cash for it to be eligible.
Section 80RRB
A citizen who holds a patent can claim a tax deduction of up to ₹3,00,000 on the income generated through a patent registered on/after 1st April 2003, as stated by the Patents Act of 1970.
Section 80TTB
A senior citizen can claim a deduction of up to ₹50,000 on interest income generated from deposits.
KDK Software's Spectrum is a perfect solution for all your Income Tax challenges. It is used by thousands of Chartered Accountant and Tax Professionals in India because it helps in computing taxable income and filing ITR1 to ITR7 in a jiffy.