December 9, 2017
Invoice GST – Your Invoicing's New Best Friend!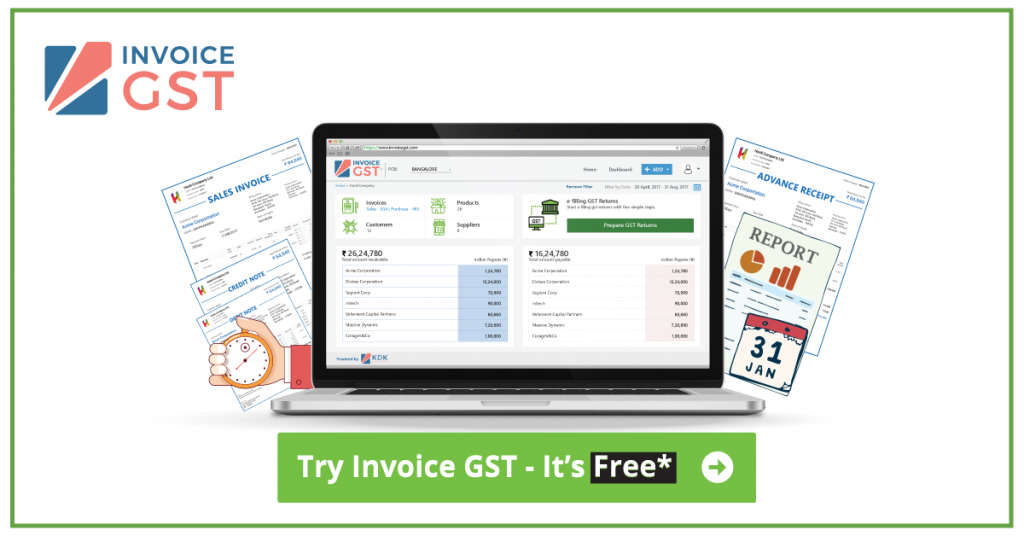 User-friendly Online solution For GST Compliant Business Invoicing
Create and send professional invoices in 60 Seconds.
Set payment reminders and seamlessly track payables and receivables
Click to Register: http://bit.ly/2BYqNF4
GST Compliance Made Easy
With the Invoice GST solution, integrate all invoicing data into a single platform. Create within a few seconds GST compliant
Tax Invoices
Proforma Invoices
Purchase Orders
Debit Notes
Credit Notes
Receipts
Maintain payables and receivables, send invoices to clients, and manage customers, suppliers, and products from one platform.
Main Features
GST Invoicing
Generate GST invoices with minimum input. Customize Invoices with the company logo, place of business, and other details, at the click of a few buttons. Send invoices to clients directly from the platform. Manage the payment cycle and get compliance reminders.
­Quick & Easy dashboard
The invoice GST user interface is simple. Navigation is easy, even for first-time users. Find all the information about any period, any invoice, or note, at a glance, on the unique dashboard.
HSN & SAC Lookup
GST invoices should include HSN (Harmonized System of Nomenclature) codes and SACs. These may sound like complex terms. However, the Invoice GST platform makes it easy. Type the name of the goods or services being sold in the search bar. This will provide a list of activities. Select the activity and the HSN, and SAC is auto-filled.
Search no longer from a comprehensive list of 5,000 commodities to find the HSN code. It is easily available from the drop-down autosuggest menu.
Automatic Tax Finder and Calculator
Invoice GST solution auto retrieves the tax rate to apply to each invoice. It also calculates the amount of the invoice. There is no need to read and analyze the tax rates. Select the product/service from the drop-down and apply the respective tax rate automatically.
Multi-user Options
Set up multiple users with User Role Management at no extra cost. Share the account with colleagues and accountants. Create access controls for every user. Delegate all accounting needs while maintaining control.
Apply discounts as a percentage or as a number
Want to give the client a discount? It is simple. Add the discount value or percentage. Applicable GST and invoice amount are auto – calculated.
Multiple places of business?
No worries. Add multiple places of business to generate a customized invoice template for each place of business. Maintain invoices numbers to adapt to business requirements.
Mobile Interface
Invoice GST is mobile friendly. Generate and share invoices from smartphone and tablets, set up efficient invoicing options, set reminders for updates, and reduce time lags in the payment cycle and thereby manage working capital better.
The mobile-friendly interface provides flexibility for the team to work anywhere, anytime.
Organize efficiently
Invoice GST is programmed to send real-time reminders of tax payments due, automated updates on tax compliance, and status update on return filing.
Perfectly suited for entrepreneurs on the go!
Who needs an Invoice GST solution?
Everyone who is associated with running a business can use Invoice GST. Be it an entrepreneur, an SME or SMB, a chartered accountant, or a GST practitioner, Invoice GST makes invoicing easier for everyone.
Chartered Accountants and GST Practitioners
Accountant and tax practitioners can efficiently maintain and update the GST tax credits for their clients. Invoice GST has the import functionality to automate the flow of data from any accounting software, excel or tally. Accountants can ensure full compliance with GST for their clients by checking the status on the dashboard.
Entrepreneurs
Invoice GST is ideal for SME enterprises and tech startups. Stay up to date with automated reminders and minimize the invoice follow-ups process. Easy to use invoicing templates for voluminous e-commerce transactions available.
Cloud Technology
With the cloud technology, data is not only secure and protected, but the authorized persons can access it from anywhere, anytime. This results in better collaboration with the team and with vendors/suppliers.
Invoice GST is not only fast and accurate; it also provides a comprehensive GST compliance solution. It helps save time in managing clients' accounts wherever and whenever needed.
No need for maintenance staff or costly servers. The cloud provides all the services needed, saving time and labor.
Data Import – Platform
The platform allows migration from existing accounting software; excel files or CSV files with minimal steps. Data integration is secure and ready to use immediately.
Data Security – Platform
Invoice GST is hosted on highly secure "Amazon Web Services" cloud. It has the best in class security features. It mitigates the risks of a data breach in local storage and ensures an unparalleled disaster recovery plan. This ensures the application is available 24*7 with cent percent uptime.
Data Backup
With Cloud hosting, application data can never be lost. There is no risk of data corruption. Data is regularly updated in the cloud and the speed of Amazon Web Services ensures zero downtime.
Automatic Updates – Platform
GST Invoice is auto-updated with new features periodically without any interruption to work. No manual updates required, unlike with other desktop-based software. These updates are free of charge. This gives Invoice GST an edge over other solution providers.
Key Features
Cloud-based Solution
Integration with popular accounting software and GSTN excel Template
Mobile application for on-the-go entrepreneurs
Easy to use, comprehensive dashboard
GST input tax credit assistance
Customizable personal invoicing templates
Auto updates and reminders
Secure data management
Add a new customer from any page of the platform – no navigational hassles